Er zijn verschillende mogelijkheden om de status van je Linux desktop in de gaten te houden. Denk maar eens aan Gkrellm of aan top, of mogelijkheden die worden aangeboden vanuit screenlets etc. Zelf vind ik de mogelijkheden van conky heel plezierig. Een van de voordelen van conky is de mogelijkheid om zelf te bepalen wat -en hoe- een en ander zich kan presenteren.
Op dit moment staat deze versie op mijn desktop:

Installeren is op zich niet zo lastig. Je installeert eerst conky en plaatst vervolgens een configuratie bestand met de naam .conkyrc in je eigen thuismap. (let op, door de punt wordt het een onzichtbaar bestand, je maakt het zichtbaar met CTRL h onder Nautilus)
De inhoud is voor iedereen naar eigen smaak aan te passen. Zo staat er bij mijn .conkyrc verwijzingen naar mijn beide CPU cores, naar mijn eth0 verbinding en ook naar mijn aparte Root, Home en Data partities.  Je kan overigens hier mijn .conky configuratie bekijken en gebruiken voor een eigen versie.
Vervolgens laat je Gnome dat bestand inlezen vanuit een opdracht die je plaatst in (Menu-Systeem-Voorkeuren) sessies. Mocht je Compiz gebruiken dan wordt aanbevolen om een apart scriptje te maken met als naam conky_start.sh en in je thuismap (of lokale bin map) te plaatsen met de volgende inhoud:
#!/bin/bash
sleep 60 && conky;
Door het "sleep" commando duurt het 60 seconden voor conky zich laat zien, maar voorkomt ook dat er problemen komen met het afbeelden van de output.
Je maakt dat bestand vervolgens uitvoerbaar vanuit Nautilus (eigenschappen, rechten) of met behulp van deze opdracht in je terminal:
chmod a+x .conky_start.sh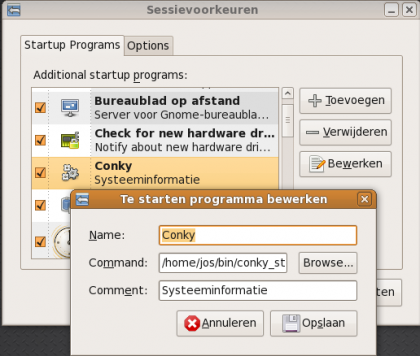 Meer informatie incl. de nodige screenshots en versies van andere gebruikers staat vermeld op Ubuntu Forums.