Het is inmiddels wel duidelijk geworden dat Twitter een blijvertje is geworden. Er komen dan ook steeds meer zgn. microbloggers bij. Zelf gebruik ik ook Twitter maar heb wel af en toe geworsteld met de onder Linux beschikbare clients. Er zijn verschillende mogelijkheden om te gebruiken (en dan beperk ik mij tot Gnome).
Je kan natuurlijk Twitter gebruiken vanuit een terminal maar echt handig is dat niet. Dan heb je nog Pidgin (met microblog-purple) of Empathy en de Prism Twitter is dan weer een andere optie. En je hebt gtwitter en Twitux klaar staan in de repositories van Ubuntu. En dan heb je natuurlijk nog de mogelijkheden om te twitteren vanuit je browser met behulp van TwitKit en ga zo maar door. Mogelijkheden genoeg. Maar uiteindelijk kon geen van die clients of webbased oplossingen mij 100% overtuigen.
Maar mogelijk is dat nu opgelost met de ontdekking van Gwibber.
Gwibber is an open source microblogging client for GNOME developed with Python and GTK. It supports Twitter, Jaiku, Identi.ca, Facebook, Flickr, Digg, and RSS. Please note that this is roughly beta-quality software.
Zoals je ziet gaat het om veel meer dan alleen maar een Twitter client. Dat maakt het ook zo leuk. Het programma verkeert nog in beta fase. Via een Tweet van Jan Stedehouder begreep ik dat bij hem het programma veel crashes heeft veroorzaakt. Zelf heb ik dat nog niet gemerkt.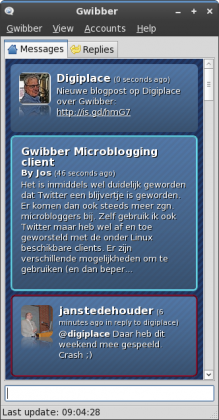 Voorlopig ga ik Gwibber verder aan de tand voelen. Mocht het toch weer tegenvallen dan meld ik dat wel weer.  Of je volgt digiplace op http://twitter.com/digiplace.