Een Touchbook. Klinkt lekker is het niet? Het is een relatief goedkope versie van een netbook, maar dan wel voorzien van een touch screen en voorzien van veel open source Linux (Gnome) oplossingen. De fabrikant is Always Innovating en dat is een prachtige naam als je een dergelijk produkt naar de markt weet te brengen.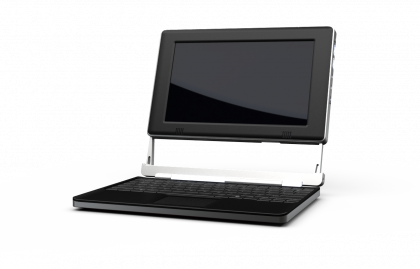 Het gaat om een (beta) uitvoering van geavanceerde hard- en software. Het scherm kan worden losgekoppeld van het toetsenbord en is dan vervolgens als touchbook te gebruiken. Het draait op een eigen OS maar het kan ook overweg met Android, Linux of (eventueel) Windows CE.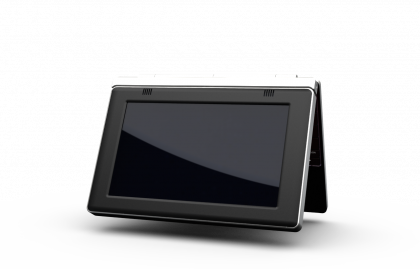 Als ze starten met het uitleveren van de hardware dan kan je dit verwachten:
Linux 2.6.29 with all the required drivers
Xfce 4.4 desktop environment
A unique 3D interface for starting applications with your finger
Firefox 3.0 and Fennec beta 2
Youtube and daily motion support
A video and music player
A chat manager, Pidgin
Mypaint 5.1
An ebook reader, Fbreader
A printer manager, Cups
All usual accessories (zip, picture viewer, dictionary…)
Support for most standard USB accessories
Java support
En dat draait allemaal op mooie hardware:
Texas Instruments OMAP3530 with Micron 256MB (RAM) + 256MB (NAND) Memory
8.9 inches 1024×600 A+ screen
Main storage: 8GB SD card — we decided to change from Micro SD to standard SD, so that you can easily upgrade it
Internal USB wifi 802.11 b/g/n powered by a Ralink 3070 chipset
Internal USB bluetooth class 2.1
FCC, CE, UL-certified, 5V, 3.5A power adapter
8.9 inches pressure sensitive touch screen
US Qwerty 24cm-large keyboard — around 95% of the size of a standard keyboard
Cirque Touchpad
Two Owolff high-quality internal stereo speakers
3D accelerometer
Two internal batteries 6000 and 12000mAh — it can be replaced with a screw driver
7 USB ports: three external, four internal, three of them may be reserved for wifi, bluetooth and keyboard
Bi-color silver/black case — see photos — with a beautiful dark-red back cover (we decided to go only for red for the first batch as it really jumps out, you won't regret it).
Secured attachment system of tablet into keyboard
Independent magnet system for the tablet — we don't want your Touch Book to un-magnetize all your credit cards while carrying it in your bag!

En Alway's Innovating heeft heel goed door hoe de wereld in elkaar steekt.
Open Source

Always Innovating believes that open hardware will stand out in the coming years as open software has done recently. Based on the Beagleboard project, we are providing the design of the Touch Book to parties that show strong commitment to the open source movement. Please following this link for more information.
Kortom..iets om in de gaten te houden.