Op mijn HTC Desire HD is Tweetdeck de onbetwiste applicatie voor mijn Twitter account. Op mijn Ubuntu desktop gebruik ik daar nog steeds Gwibber voor. En dat begint toch te steken. Gwibber kan niet zover terug in historie en reageert niet altijd even snel in de tijdlijn. Daarnaast zijn er veel meer mogelijkheden in Tweetdeck aanwezig. Waarom dus niet op mijn desktop overstappen naar Tweetdeck?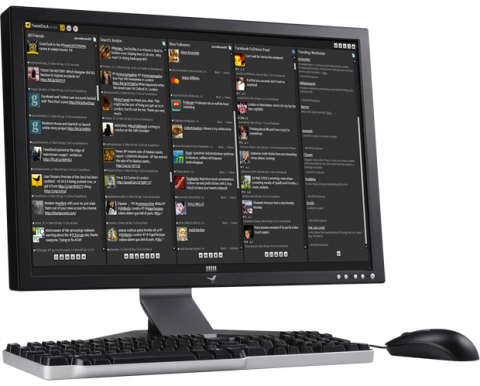 Dat lijkt logisch ware het niet dat Tweetdeck Adobe Air nodig heeft om te kunnen functioneren. En Adobe Air werkt niet onder een 64 bits versie van Linux. Maar gelukkig is er een oplossing.
Voor de zekerheid controleer je of je lib32nss-mdns  hebt geïnstalleerd (sudo apt-get install lib32nss-mdns)
Download de Adobe Air deb package en sla die op je bureaublad op
Maak op je bureaublad een tijdelijke map aan met de naam tmp
Open een terminal tik in cd /Bureaublad of cd/ Desktop en ga verder met de opdrachten:
dpkg-deb -x adobeair.deb tmp
dpkg-deb –control adobeair.deb tmp/DEBIAN
sed -i "s/i386/all/" tmp/DEBIAN/control
dpkg -b tmp adobeair_64.deb
en sluit dit verhaal af met het commando:
sudo dpkg -i adobeair_64.deb
Vervolgens ga je naar de downloadpagina van Tweetdeck en kiest voor de button Download nu (gratis)
De rest wijst zich zelf.