Er zijn meerdere manieren om een printer te installeren onder Ubuntu. Maar als je een printer van HP gebruikt is toch wel erg gemakkelijk om te werken met HPLIP-GUI. Je installeert dit pakket met sudo apt-get install hplip-gui of je zoekt het op in Ubuntu Softwarecentrum. Vervolgens klik je op (Systeem, Voorkeuren) HPLIP-Toolbox en het feest gaat beginnen. Eerst krijg je een informatiescherm te zien.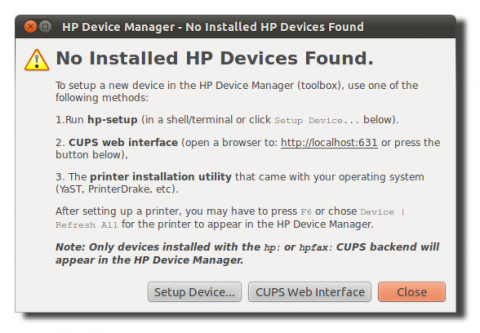 Je klikt vervolgens op de voorgestelde button "Setup Device…" om de installatie te starten. Je krijgt vervolgens een scherm waarin je op zoek gaat naar de aangesloten printer. In mijn geval is de printer aangesloten via een ethernetaansluiting en dus kies ik voor de 2e optie maar geef ook onder de geavanceerde opties het interne IP adres op waar de printer op staat ingesteld.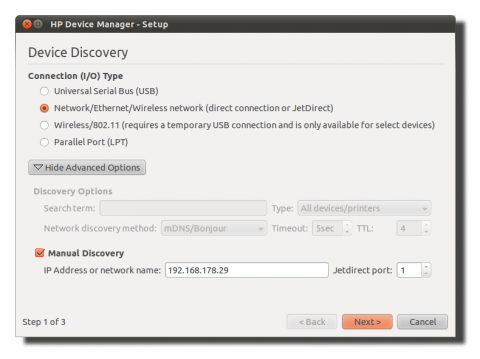 Vervolgens krijg je nog een tweetal schermen waarop je keuze moet worden bevestigd en waar je de naamstelling kan aanpassen. En meer is het niet. Het grote voordeel van deze methodiek is echter de uitgebreide toolbox die je bij deze installatie krijgt aangeboden.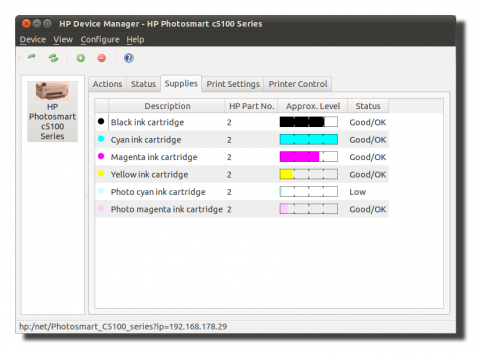 Je krijgt dus de voorraad inkt te zien, je kan je koppen schoonmaken of uitlijnen, papier en printkop instellingen wijzigen, boodschappen doen bij de HP winkel etc. etc. In je Gnome Panel komt ook een icoon te staan van waaruit die mogelijkheden ook zijn op te roepen.

Zeg nou zelf, makkelijker kan het toch niet?