Hoewel er meerdere mogelijkheden bestaan (Gnome Office Suite, IBM Lotus Symphony of KOffice) zullen de meeste mensen onder Ubuntu gebruik maken van de OpenOffice.org kantoor suite.
Om maximaal gebruik te maken van OpenOffice.org is het zinvol om een paar extra pakketten te installeren.  (Zoek die pakketten op onder Synaptic of installeer ze in een terminal met het commando sudo apt-get install <pakketnaam>)
Met  openclipart-openoffice.org en openclipart-png krijg je een pakket aan licentievrije clipart toegevoegd die je kan gebruiken bij je documenten of presentaties. Eenmaal geïnstalleerd kan je die graphics vinden onder de (OpenOffice.org) menu ingang "Invoegen->Afbeelding->Uit bestand" . Blader dan vervolgens naar deze locatie: /usr/share/openclipart en ga dan naar de map png of svg om je keuze te maken (prachtige graphics overigens!)
Het pakket openoffice.org-java-common maakt het gebruik van de wizzard functie beschikbaar zodat je eenvoudig een ontwerp kunt gaan toepassen. Er zijn standaard al een paar templates onder OpenOffice.org beschikbaar maar je kan ook templates downloaden vanaf b.v.  OpenOffice.org Templates.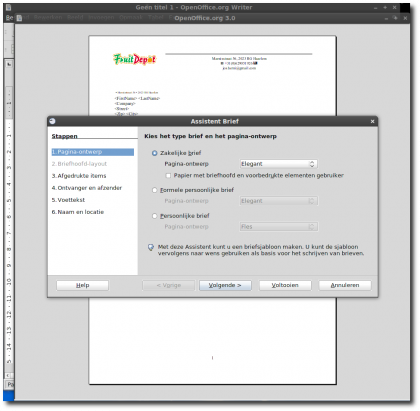 Voor deze functie is het natuurlijk nodig om Java geïnstalleerd te hebben. (sudo apt-get install sun-java6-jre sun-java6-plugin sun-java6-fonts) Ook moet je binnen OpenOffice.org de juiste (zie het plaatje) verwijzing hebben gemaakt.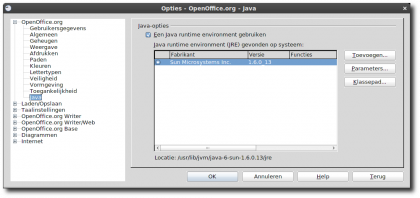 Met behulp van deze extra pakketten staat je niets meer in de weg om productief het beste uit jezelf te halen.