Met alle tamtam rondom de vandaag geïntroduceerde Apple iPad leek het mij wel leuk om ook eens te kijken waar het allemaal om gaat. En dan wil je al snel naar de Quicktime video kijken op deze pagina van Apple.com. Dat werkte echter niet onder Firefox (of Chrome) op mijn Ubuntu 9.10 (amd64) desktop.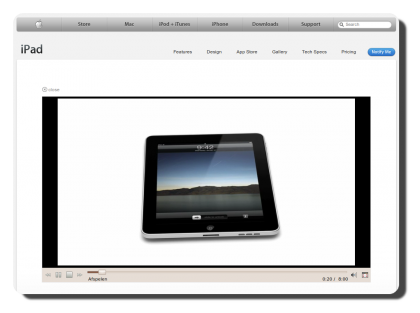 Dat was vreemd omdat ik in principe alle mogelijke codecs had geïnstalleerd. Al snel bleek dat het probleem zit bij de totem-mozilla plugin die standaard wordt gebruikt onder Gnome. De oplossing om dat probleem te verhelpen is het gebruik maken van de Gecko-mediaplayer plugin.
Gecko Media Player is a browser plug-in that uses GNOME MPlayer
and Mplayer to play media in a browser.
It uses the NS4 API and is therefore compatible with all NS4 derived browsers:
Iceweasel, Firefox, Iceape, Epiphany, Galeon, Midbrowser, Xulrunner, etc.

It is the modern replacement for mplayerplug-in (from the same author).
De te hanteren werkwijze is als volgt:
Sluit eerst Firefox af. Zorg ook dat firefox-3.5-gnome-support is geinstalleerd en dat Multiverse repo actief is
Wis of hernoem vervolgens het bestand 'pluginreg.dat' wat je aantreft in de (ontzichtbare) map (in je eigen Home) .mozilla/firefox/******.default En dan staat er op de ****** natuurlijk iets anders vermeld.
Verwijder dan de plugin totem-mozilla (vanuit b.v. Synaptic)
En installeer daarna gecko-mediaplayer en haar afhankelijkheden (mplayer)
Start vervolgens Firefox weer op waardoor een nieuw pluginreg.dat bestand zal worden aangemaakt.
Mocht je ook Chrome hebben geïnstalleerd dan kan je ook vanuit die browser naar de Quicktime video's kijken.
(bron: ubuntuforums.org)