Er bestaan verschillende applicaties om een dvd te rippen en/of om te zetten naar een ander formaat. Denk b.v. aan AcidRip, dvd::rip of Thoggen.Die programma's hebben allemaal hun eigen voor- en nadelen. Ieder zijn eigen smaak.
Mocht je echter nog op zoek zijn naar een geschikte applicatie dan is het goed om ook de mogelijkheden van OGMRip in ogenschouw te nemen.
Ten eerste omdat OGMRip alles in huis heeft om de klus te klaren.
OGMRip is an application and a set of libraries for ripping and encoding DVD into AVI, OGM MP4 or Matroska files using a wide variety of codecs. It relies on mplayer, mencoder, ogmtools, mkvtoolnix, oggenc, lame and faac to perform its tasks. OGMRip transcodes from DVD or files.

 
Features:
outputs ogm, avi, mp4 or matroska files
calculates video bitrate for a given filesize
calculates cropping parameters and scaling factors
supports multiple audio and subtitles streams encoding
lots of codecs (vorbis, mp3, pcm, ac3, dts, aac, xvid, lavc, x264, theora)
uses maximum quality codec switches
rips contiguous chapters .
Wat het programma erg aantrekkelijk maakt zijn de voorgebakken profielen. Je kan daarmee een dvd heel eenvoudig omzetten naar een formaat dat geschikt is voor bijna elk denkbaar apparaat.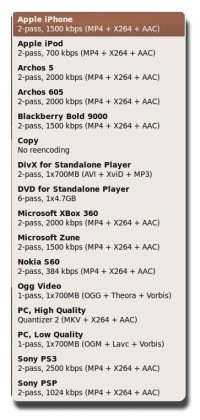 In eerste instantie lijkt het alsof er weinig instellingen gemaakt kunnen worden. Niets is minder waar overigens, die mogelijkheden komen pas in beeld als het nodig is. Daardoor is het programma veel makkelijker te gebruiken zonder te hoeven beknibbelen op haar mogelijkheden.
Dit programma is dus perfect om te gebruiken. En het is specifiek gemaakt voor onder de Gnome desktop.
The GUI features a clean HIG-compliant GNOME 2 interface and tries to minimize as much as possible esoteric settings
Als je eenvoudig een een dvd wil overzetten naar b.v. je Nokia smartphone, je iPhone, Blackberry of PsP dan is OGMRip een logische keuze.