Een computerscherm is de afgelopen jaren flink veranderd. Als je ooit bent gestart op een 15 inch beeldbuis dan zijn er waarschijnlijk heel wat formaten én technologieën aan je voorbij gegaan. Tegenwoordig is de standaard een scherm tot 24 inch met een full-hd resolutie van 1920×1080 pixels. Nog wel, want schermen met een 4K UHD resolutie zijn aan een opmars bezig.
Digiplace heeft een tijd gewerkt met 2 full-hd schermen van 24 inch met ieder een resolutie van 1920×1080. Die twee schermen boden dus samen een oppervlakte aan van 3840 x 1080 px. En hoewel het heel stoer stond op het bureau had ik al eens gezien dat de nieuwste generatie zgn. 4K schermen een beduidend beter plaatje wisten te brengen. Het werd dus tijd om de overstap te maken naar de combinatie van Ubuntu op een 4K UHD scherm.
Asus PB279Q
Een Asus PB279Q kwam goed uit verschillende testen op o.a. Hardware.info en Tweakers.net. Een zgn. WLED-scherm met een diagonaal van 27 inch en een UHD resolutie van 3840×2160 pixels. Voorzien van een IPS paneel met 163 pixels per inch, 100% sRGB, 10-bits kleuren en een brede 178 graden kijkhoek. Een scherm met dus meer dan 8 miljoen pixels. Dat is dus 4 keer de pixeldichtheid van een standaard Full-HD scherm wat garant moet staan voor veel scherpere beelden.
Ubuntu op een 4K UHD scherm
Tot zover dus een prima verhaal. Maar hoe werkt dat onder Ubuntu? Toevallig was net Ubuntu 16.04 uitgebracht. En het ligt dus voor de hand om met deze zgn. Long Term Support versie die sprong naar de wereld van 4K te maken.
DisplayPort verplicht
Er zijn wel een aantal hobbels te nemen voor het scherm naar volle tevredenheid kan functioneren. Om te beginnen is het van belang om een videokaart te gebruiken die ook daadwerkelijk de resolutie van deze monitor kan bieden. Mijn MSI GeForce GTX 760 heeft gelukkig de juiste papieren in huis. Maar dan moet je wel gebruik maken van een DisplayPort kabel (versie 1.2) want alleen met die verbinding krijg je een plaatje te zien op 60 Hz. En dat is van belang want een scherm wat een verversingsfrequentie van 30 Hz gebruikt gaat meteen hoofdpijn opleveren. Gek genoeg is het gebruik van de juiste kabel niet genoeg om die 60 Hz. af te dwingen. Je moet bij deze monitor eerst zoeken naar de OSD Systeeminstellingen omdat de standaard Display Port-stream staat  ingesteld op DP 1.1. Pas bij DP 1.2 wordt het scherm plezierig om naar te kijken.
To scale or not to scale?
Met een 4K UHD scherm kan je kiezen tussen 2 uitersten. Je kan kiezen voor de aangeboden resolutie waardoor je een groot oppervlakte krijgt aangeboden. Nadeel van die (standaard) instelling is echter dat alle bedieningselementen wel heel erg klein worden. Te klein wat mij betreft. Dat valt echter op te lossen door gebruik te maken van schaling. Je hoeft maar even naar je systeeminstellingen te gaan, kiest voor schermen en schuift de slider naar een waarde tussen 1 of 2. Als je kiest voor 2 krijg je een ongelooflijk scherp beeld aangeboden.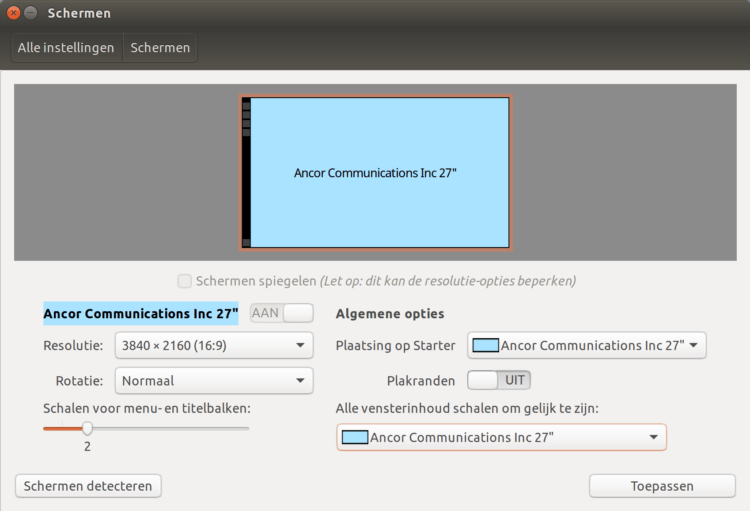 Omdat (bijna) alles 2 x zo groot wordt afgebeeld lijkt het dus alsof je weer achter een 1920×1080 scherm bent gekropen. Het grote verschil is echter de scherpte. Je krijgt echt veel meer pixels om het plaatje te tonen en je moet het zien om te geloven.
Als je echter wil profiteren van een grotere werkoppervlak dan kan je kiezen voor bijv. een factor 1,5, 1,62, 1,75 of 1,88. Het valt dan wel meteen op dat sommige programma's met veel kleinere elementen gaan werken. Dat valt deels op te lossen door bijv. in dconf-editor elementen van Nautilus aan te passen. Of door andere startopties mee te geven aan je browser, Spotify etc. etc. Veel goede tips die ook voor Ubuntu werken heb ik overigens gevonden op de HiDPI pagina va ArchWiki.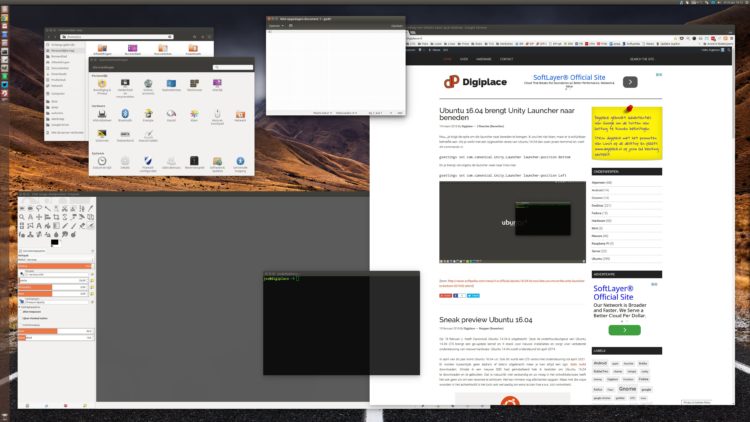 Vooralsnog geef ik persoonlijk de voorkeur aan het schalen van menu- en titelbalken (schaal 2). Dat levert mij dus geen groter werkoppervlak op, maar de scherpte van het beeld is zo overdonderend mooi dat ik er voorlopig prima mee kan leven. En met 4 virtuele werkbladen is er prima mee te werken.