Mijn overstap van Ubuntu naar Kubuntu, begin november 2020, was een opvallende stap natuurlijk. Als ervaren gebruiker van GNU Linux op een desktop computer was het altijd GNOME wat de klok heeft geslagen. Maar de overstap naar een KDE Plasma omgeving beviel mij goed. Er waren best momenten waarop ik weer terug wilde switchen naar mijn vertrouwde bureaubladomgeving. Het kost nou eenmaal even moeite voordat je een andere 'workflow' eigen hebt gemaakt.
Ondanks die tevredenheid over wat Kubuntu 20.10 wist te brengen, kwam er toch snel enige onrust boven drijven. Want als je jezelf gaat verdiepen in die (voor mij) nieuwe wereld van KDE/PLASMA dan las je vooral juichende verhalen over de nieuwste release van Plasma: 5.20.
Als je dan leest dat er wordt gesproken over een 'epic update' of 'an exceptionally refined desktop' dan zoek je naar mogelijkheden om dat ook te ervaren. Kubuntu komt echter pas in april met een nieuwe release, dus dan moet je nog even wachten. Tenzij…..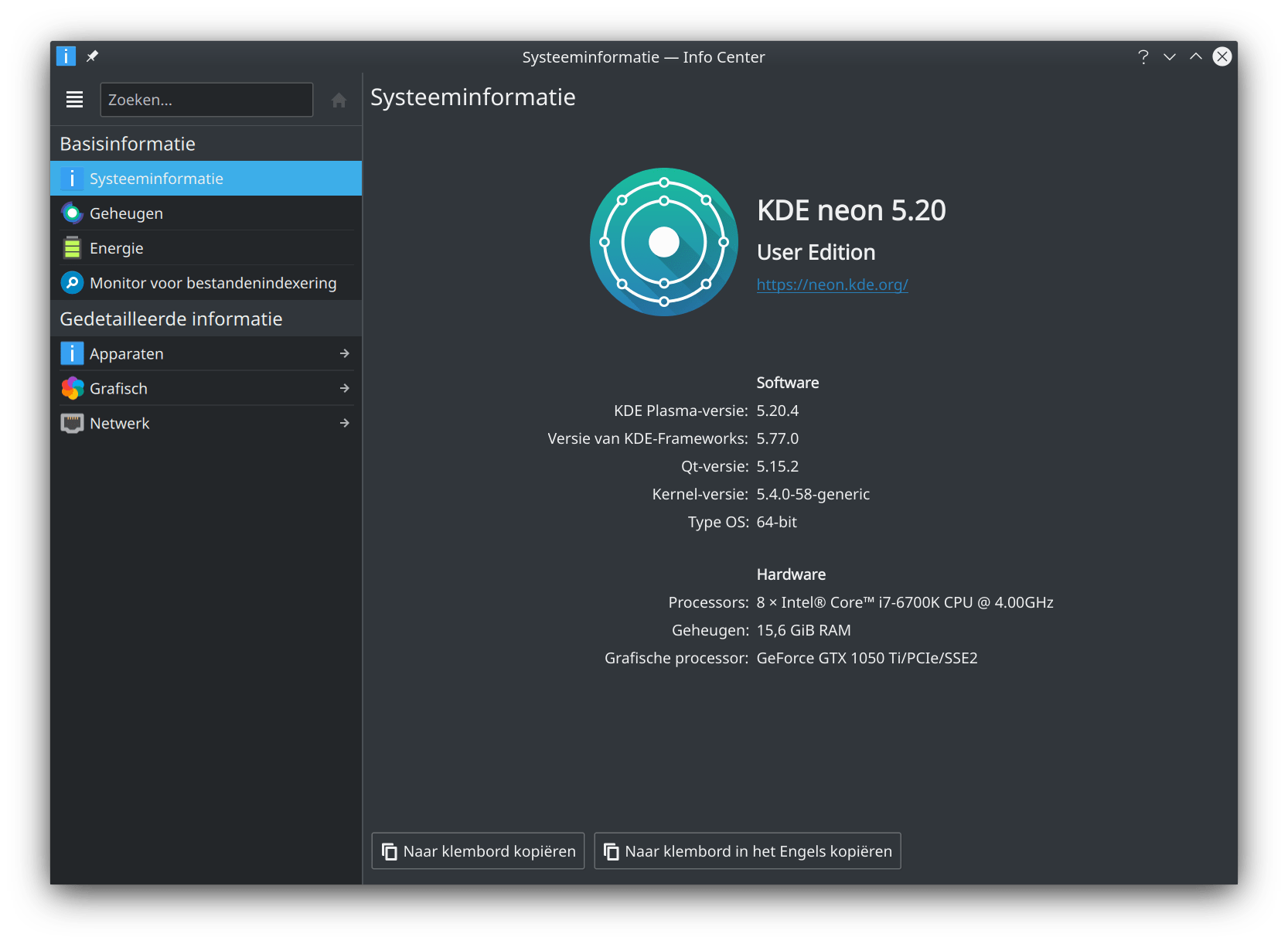 KDE neon 5.20
Ja, er is een alternatief. De developers van KDE Plasma desktop hebben namelijk een eigen distributie beschikbaar: KDE neon.  De link laat al zien dat het een puur KDE project is, want het wordt gehost op een subdomein van KDE zelf. De basis bestaat uit de LTS release van Ubuntu 20.04. Dat wil dus zeggen dat kernel, drivers en scripts niet helemaal 'vers van de pers' zijn, maar wel heel stabiel en betrouwbaar. Daarboven op komt dan de allerlaatste versie van KDE Plasma te liggen.
Met KDE neon heb je dus volledig toegang tot die 'epic release' waar iedereen het over heeft. En de updates blijven dan ook gewoon binnen komen. De nieuwste versie van kdenlive of Krita? Check…allemaal aanwezig. Althans, beschikbaar. Want na een verse installatie wordt een vrij kaal systeem aangeboden. Je moet zelf even de gewenste pakketten installeren. Dat kan met Discovery of je pakt MUON (zeg maar de KDE versie van Synaptic).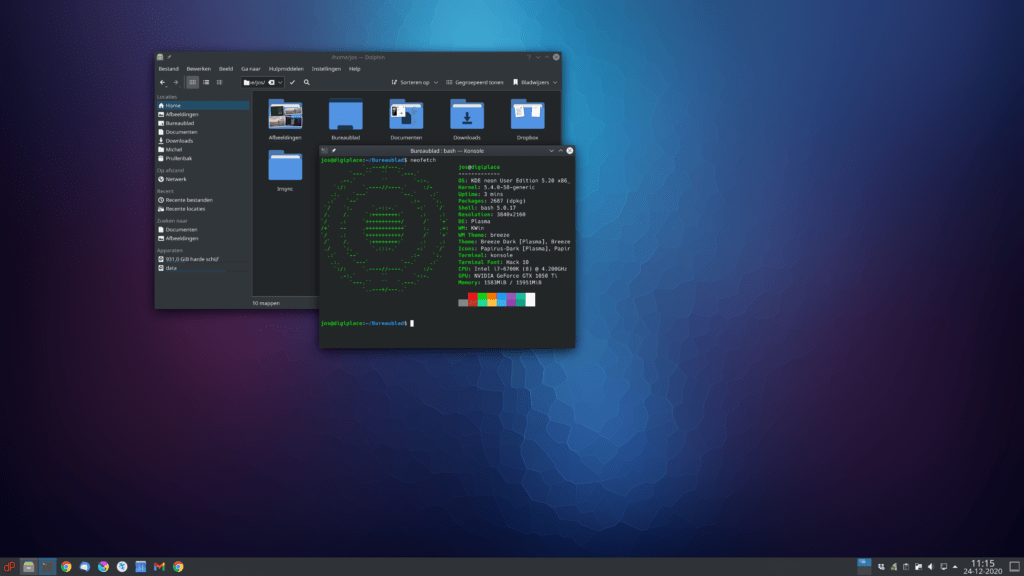 De problemen die ik ondervond bij het configureren van Kubuntu 20.10 waren hier meteen verholpen. Geluid, printen…in een keer goed. En dat niet alleen, alles is veel sneller, beter vormgegeven, slimmer gemaakt. Het is een schatkist gevuld met tal van mogelijkheden, ik begin nog maar net alles te ontdekken.