Het zal niemand zijn ontgaan: Ubuntu 9.04 is uitgebracht.
Inhoudelijk zijn er geen echte verschillen ten opzichte van mijn eerder opgedane ervaringen met de Alpha & Beta uitvoeringen opgevallen. Ik blijf niet helemaal tevreden over de grafische kwaliteit maar ben er inmiddels van op de hoogte dat ik dat meer moet toeschrijven aan de combinatie van mijn grafische kaart en de laatste NVIDIA driver.
Het lijkt er regelmatig op dat er rond de letters een kleurzweem ontstaat. Als ik "nv" gebruik i.p.v. "nvidia" in mijn xorg.conf is het probleem niet aanwezig. Nou heb ik geen state of the art kaart, maar een Asus 7600GT met 256 MB DDRIII geheugen is nou ook weer niet helemaal waardeloos natuurlijk. Ik overweeg om eens naar een oudere driver over te stappen.
Maar op dit moment ben ik met andere experimenten bezig.
Avant Window Navigator
Avant Window Navigator is een dock voor op je Linux desktop. Ik heb er al eens eerder mee gespeeld maar vond al snel dat de potentie groter was dan haar bruikbaarheid. Inmiddels is aan die belofte van toen voldaan. Avant maakt een stabiele indruk en is bruikbaar in de praktijk.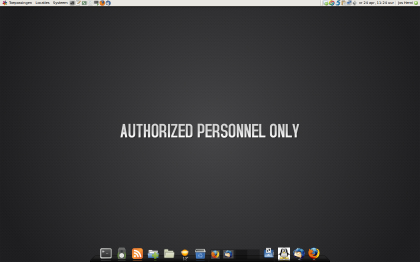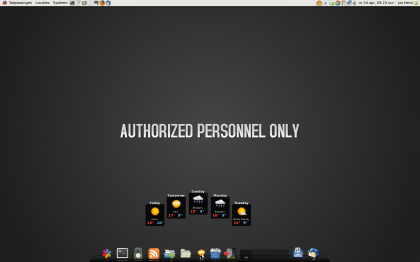 Het is weliswaar niet op zijn "Gnome's" maar een verandering van spijs doet ook op mijn bureaublad wel eens goed. Je kan Avant Window Navigator (AWN) gewoon terugvinden onder Synaptic en valt dus met een paar muisklikken te installeren. (sudo apt-get install avant-window-navigator avant-window-navigator-data awn-applets-c-core awn-applets-c-extras awn-applets-python-core awn-applets-python-extras awn-manager)
De rest wordt dan vanzelf mee geïnstalleerd. Je start AWN op vanuit je Toepassingen – Hulpmiddelen menu. Zorg ervoor dat je het onderste Gnome paneel verwijderd en dat je het blauwe AWN manager altijd helemaal rechts laat staan.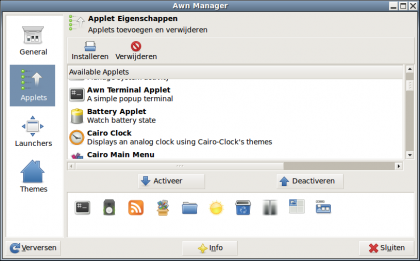 Of ik er mee blijf werken moet de toekomst nog uitwijzen, maar de komende dagen laat ik het gewoon staan.