Onlangs heb ik het aantal Gnome Shell extensions op mijn Fedora 28 Workstation fors uitgebreid. Een paar daarvan zijn bijzonder welkom gebleken. Zo brengt 'extensions' de mogelijkheid om vanuit het panel-menu toegang te bieden tot alle beschikbare opties.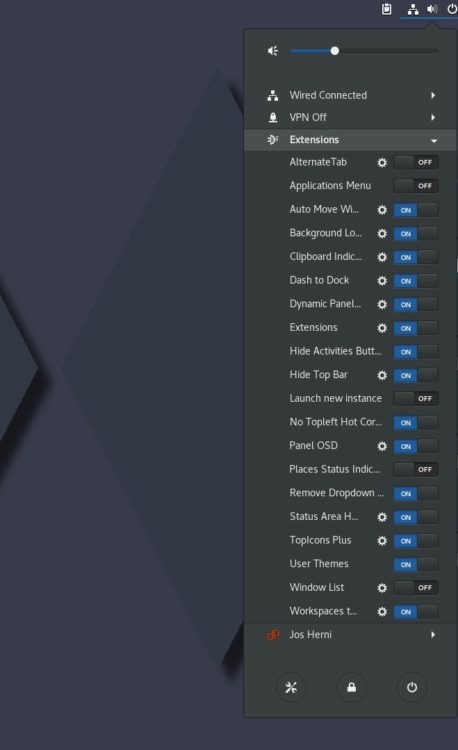 Met 'Auto Move Windows' kan je automatisch een applicatie toewijzen aan een virtueel bureublad. Met 'Dynamic Panel Transparency' maak je het panel volledig transparant en dankzij 'Hide Top Bar' maakt het panel volledig plaats voor een full blown venster. Met een lichte druk van je muis komt het panel dan weer in beeld.
Ook heel fraai is 'Panel OSD' die ervoor zorgt dat notificaties komen te staan waar jij dat wil. En het kan ze ook nog eens volledig leesbaar maken (geen samenvatting). Met 'Status Horizontal Placing' plaats je de iconen in je panel wat dichter bij elkaar (of juist meer uit elkaar, wat jij wil natuurlijk).
En met 'Workspace to Dock' kan je vervolgens helemaal los. Daarmee kan je jouw virtuele bureaubladen veel beter gebruiken en echt een goed overzicht krijgen vooral in combinatie met (in mijn configuratie) Dash to Dock en in combinatie met 2 beeldschermen.
Zo blijkt maar weer hoe flexibel een GNOME desktop valt in te zetten. Je pakt wat je wil gebruiken en blijft in controle over jouw desktop. En zo hoort het ook.