De opmars van Google Android als besturingssysteem voor mobiele telefoons begint goed zichtbaar te worden. Er komen steeds meer toestellen op de markt die zijn voorzien van dit unieke besturingssysteem. Het is een beetje onduidelijk hoe dit systeem zich gaat ontwikkelen voor andere systemen. Want naast Android heeft Google ook ingezet op Google Chrome OS.
Dat neemt niet weg dat er nog steeds wordt gewerkt aan het Android platform voor gebruik op b.v. een netbook of Mobile Internet Devices. Er is nog lang geen stabiele werkzame versie om te gebruiken maar je kan wel heel goed de huidige ontwikkelingen volgen.
Daarvoor moet je eerst een iso bestand downloaden vanaf Live Android. Er zijn mogelijkheden om die iso te gebruiken als livecd. Maar ik heb gekozen voor een virutele sessie binnen VirtualBox. Daarvoor  start je VirtualBox op en kiest als gastsysteem voor Linux zonder daarbij een keuze te maken voor een distributie (x86). Je mount de iso en boot de zaak op. Het werkt verrassend snel en het heeft ook zeker de look and feel van Android op je mobiele telefoon. Het leuke is dat je Android browser b.v. meteen de evenuteel aanwezige mobiele versie van een website laat zien.
Hier een paar screenshots die op die manier zijn genomen: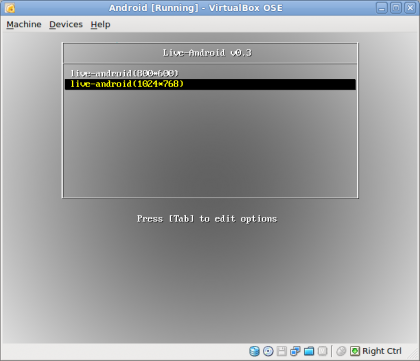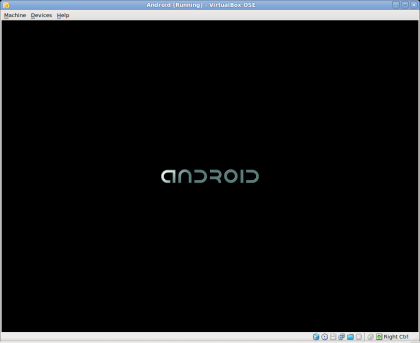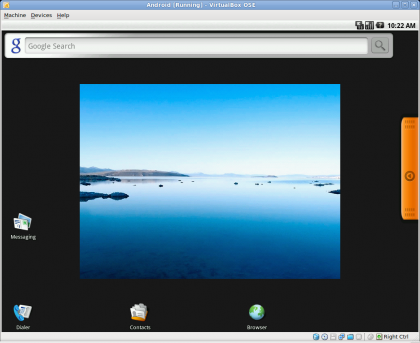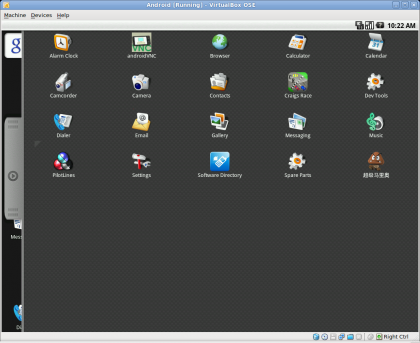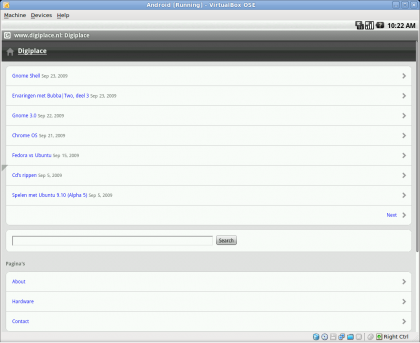 Er zijn nog een aantal zaken bij mij niet duidelijk. Ik zie b.v. bij een volledig geopende applicatie niet zo snel hoe ik weer terug moet keren naar de homepage. Maar mogelijk moet ik mij nog wat gaan verdiepen in de documentatie. Die kan je overigens vinden op de project pagina van Live Android: http://code.google.com/p/live-android/