Tegenwoordig is het plaatsen van een zgn. home server redelijk normaal aan het worden. En dat is best logisch als je kijkt naar de voordelen die een dergelijke server je biedt. Je gebruikt een home server b.v. als centrale opslag voor al je digitale bestanden. Maar je kan een home server ook gebruiken voor het maken van automatische backups van de op je netwerk aangesloten computers.
Als die server goed is ingesteld en ook veilig toegang tot het internet heeft verkregen dan kan je ook op andere locaties over je bestanden beschikken.
Maar je kan een home server ook inzetten als een mail-  web- of FTP server. Als je regelmatig via BitTorrent of vanaf Usenet bestanden download dan kan je dat ook rechtstreeks vanaf die server gaan doen.
IRC gebruikers kunnen hun online aanwezigheid in hun favoriete chat kanaal vereenvoudigen. Denk ook aan mogelijkheden als print server, router, firewall of als streaming media server.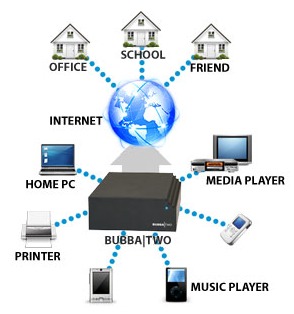 Het is dan wel slim om goed na te denken over de hardware van die server. Hij staat in beginsel 24 uur, 7 dagen per week aan en dus stel je eisen aan de geluidsproductie en aan het energie verbuik. Er zijn zat mensen die dan zelf een computer inrichten en een eigen server gaan draaien.
Maar het kan veel makkelijker en waarschijnlijk ook veel goedkoper. Er zijn immers kant en klare oplossingen op de markt te vinden. Dat zijn vaak kleine en zeer energiezuinige home servers die prima in staat zijn om alle hierboven beschreven taken uit te voeren.
Digiplace heeft bij Mingos een Bubba|Two server besteld en ontvangen. Bubba|Two is de tweede versie van Bubba, een product dat vanuit Zweden op de markt wordt gebracht door fabrikant Excito.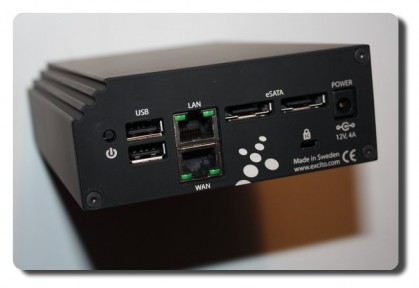 Bubba|Two draait op een 333 MHz Power PC en is voorzien van 256 MB aan DDR2 geheugen. Je kan hem kant en klaar met een (eSATA) harde schijf van max 2 TB  verkrijgen. Verder is Bubba|Two voorzien van 2 x 1000 Mbit/s lan- en 2 USB 2.0 poorten. En je kan er eventueel nog twee extra (externe) eSATA schijven aan hangen.
Dat alles is verpakt in een doosje die -pak hem beet-  niet veel groter is als de gemiddelde externe harde schijf. Omdat Bubba|Two is voorzien van een Power PC processor is als besturingssysteem voor de PPC uitvoering van Debian gekozen.
En hoewel Debian een vertrouwde omgeving is voor gebruikers van Ubuntu (waar Digiplace normaal gesproken over schrijft) is deze Bubba| Two ook zeer geschikt voor gebruikers van Windows en/of Apple OSX systemen.
Je bedient deze home server vanuit je browser en op Digiplace zal de komende maanden uitvoerig worden geschreven over al haar mogelijkheden.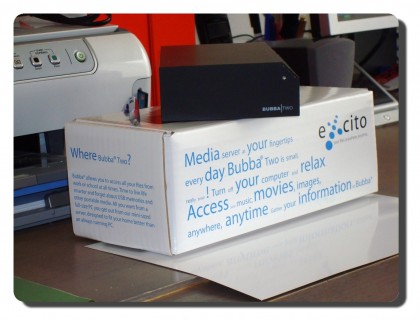 Tot slot een mooie conclusie van Linux.com over Bubba|Two die in ieder geval bij mij heeft bijgedragen tot het besluit om Bubba te verkiezen boven andere alternatieven:
Simply put, Bubba Two is as good as a simple server appliance gets. It can handle pretty much any task you throw at it, while the easy-to-use Web interface makes server configuration and maintenance a breeze. The tiny size and discrete design coupled with low power consumption and low noise level make Bubba Two a perfect solution for home and small offices. In other words, if you are looking for a small and versatile Linux-based server, Bubba Two should be at the very top of your list.