Canonical roept heel graag dat Ubuntu (en ik citeer) "The leading OS for PC, tablet, phone and cloud" is. Of zou moeten zijn. En deels klopt het ook wel. Ubuntu is namelijk overal vertegenwoordigd. Heel groot in de Cloud, groot aan het worden in IoT, er zijn steeds meer mensen die Ubuntu gebruiken op hun computer en er schijnen zelfs mensen rond te lopen met een Ubuntu telefoon en tablet. Ach…marketing. Een flinke schep zout doet soms wonderen.
Nou behoor ik zelf tot de  mensen die al jarenlang met veel plezier Ubuntu gebruikt op desk- en laptop. En Ubuntu als server wordt ook graag ingezet en langzamerhand ga ik steeds meer belangstelling krijgen voor Ubuntu Core. Maar Ubuntu op een telefoon?
Convergence
Met Ubuntu op een telefoon is wel wat aan de hand. Het gaat niet puur om het aanbieden van een alternatief voor Android of IOS. Het is de droom van Ubuntu om smartphones in te zetten als alternatief voor een volwaardige computer. Je sluit dan je telefoon aan op een dockingstation. Daaraan hangt een monitor, keyboard en muis en daarmee bereik je het ultieme doel: convergence oftewel convergentie:
convergentie: Naar elkaar toegaan, overeenstemming of samenkomst op een punt, iets dat op elkaar gaat lijken.
Alles lijkt erop gericht om die doelstelling te behalen. De ontwikkeling van Unity is bijvoorbeeld volledig gericht op Unity 8 want daarmee verkrijg je een interface die zowel op een klein als op een groot scherm kan werken. Een systeem die kan worden bediend met een toetsenbord en muis maar ook kan werken met Touch bediening.
De ontwikkeling van Unity 8 is echter nog een hele kluif voor Canonical / Ubuntu. We kunnen nu een preview bekijken onder Ubuntu 16.10 maar als je niet over de juiste hardware beschikt werkt het niet. En als het wel werkt valt er eigenlijk niet mee te werken. Geeft niets…een preview laat alleen maar zien hoe het er nu voor staat en waar het naar toe lijkt te gaan. En aan de andere kant van het spectrum moeten we dan kijken hoe het werkt op een mobiele telefoon.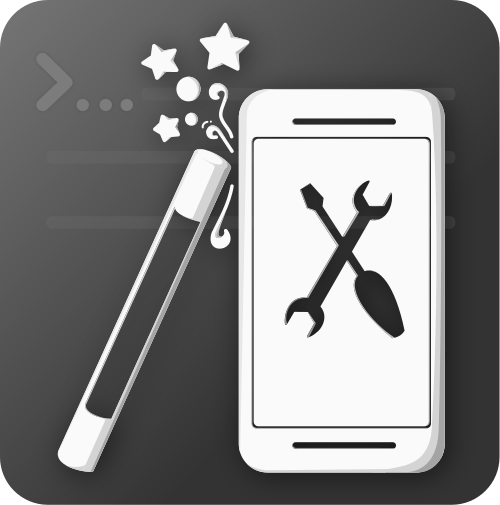 Magic Device Tool
Er worden toestellen verkocht met Ubuntu als OS maar kom ze maar eens tegen. Daarom is het leuk om te zien dat er tools beschikbaar komen om Ubuntu zelf op je telefoon of tablet te installeren. Een heel geslaagde versie kan je vinden op GitHub: Magic Device Tool van Marius Quabeck.  Een tool die alleen maar werkt vanaf een Ubuntu 16.04 (of hoger) computer en alleen maar werkt op een beperkt aantal toestellen. En het werkt niet als een dual OS, het is alles of niets.
Het gebruik van Magic Device Tool is wel heel eenvoudig. Uiteraard heb je Git op je computer geïnstalleerd. En je hebt een toestel zoals hieronder staat aangegeven.
Supported devices
BQ Aquaris E4.5 (krillin)
BQ Aquaris E5 HD (vegetahd)
BQ Aquaris M10 HD (cooler)
BQ Aquaris M10 FHD (frieza)
Meizu MX 4 (arale)
Meizu Pro 5 (turbo)
LG Nexus 4 (mako)
LG Nexus 5 (hammerhead)
Asus Nexus 7 2013 WiFi (flo)
Asus Nexus 7 2013 LTE (deb)
Asus Nexus 7 2012 3G (tilapia)
Asus Nexus 7 2012 WiFi (grouper)
Samsung Nexus 10 (manta)
OnePlus One (bacon)
Fairphone 2 (FP2) !!May not work!!
Werkwijze
Zelf heb ik onderstaande procedure gevolgd op een Nexus 5 (hammerhead). Voor je begint zorg je natuurlijk dat je onder het dan nog geïnstalleerde Android je USB foutopsporing aanzet (onder Onwikkelaarsopties). Vervolgens sluit je de telefoon  met een  usb kabel aan op je Ubuntu 16.04+ computer. En je beseft je dat het op geheel eigen risico moet worden gedaan. Als je iets fout doet of ik schrijf hieronder iets verkeerd op dan loop je de kans dat je telefoon onbruikbaar wordt.  En zelfs als het allemaal is gelukt is je telefoon niet echt bruikbaar geworden. Want het is duidelijk nog lang niet af. Met die waarschuwing de volgende commando's:
Vervolgens in de terminal:
git clone https://github.com/MariusQuabeck/magic-device-tool.git
cd magic-device-tool
chmod +x launcher.sh
./launcher.sh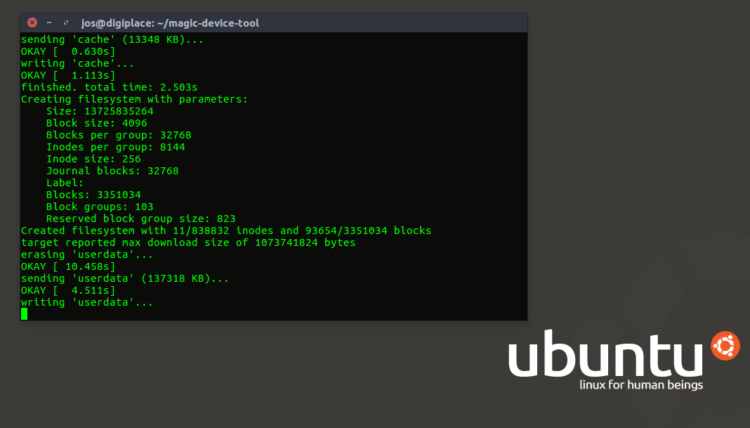 Met dat laatste commando start je de installatie van benodigde software en als dat allemaal is afgerond kan je wederom met die opdracht de standaard interface oproepen. Het is van belang dat je begint met het maken van een backup.  Vervolgens moet je de telefoon voorzien van een unlocked bootloader. De Nexus 5 heeft immers standaard een locked bootloader. Hou er dan wel rekening mee dat daarmee je hele telefoon wordt gewist! Je bent daarna dus alles kwijt. Opties om dat te bewerkstelligen worden allemaal in deze tool aangeboden. Voor de Nexus 5 moet je overigens de toetscombinatie VOLUME DOWN + POWER gebruiken om FASTBOOT te kunnen starten. De rest spreekt wel voor zich lijkt mij of je kijk nog even rustig naar onderstaande video.
Moet je het uberhaupt wel doen?
Dat is een lastige vraag.  Ik ben gek op Ubuntu maar het is eigenlijk zonde om zo'n goede telefoon of tablet op te offeren aan dit speeltje. Want dat is het op dit moment. En je bent ook zo uitgespeeld. De batterij is heel snel leeg, de responsiviteit is niet geweldig, Veel toepassingen zijn niet beschikbaar of alleen te gebruiken als webapp.  En dat is geen feest op je kleine scherm. Mijn browser doet het al helemaal niet… Kortom…leuk voor heel even, maar dat is het dan wel. De koppeling met apart scherm en bluetooth keyboard en muis heb ik ook niet geprobeerd omdat ik daar de hardware (nog) niet voor heb. Maar alles bij elkaar heeft deze installatie mij wel geholpen. Ik ben vooralsnog blij met Ubuntu op mijn computersystemen en blijf vooralsnog gewoon bij Android voor op mijn smartphone.