Een nieuwe videokaart. Het lijkt zo eenvoudig. Je kiest een moderne kaart uit en plaatst die in je computer. Dat zou toch gewoon moeten werken? Maar in de praktijk is niet alles automatisch zo eenvoudig.
Zo had ik belangstelling voor een nieuwe grafische kaart van NVIDIA. Die komen in vele variaties maar ik had mij goed voorbereid. Ik had gekozen voor de MSI NVIDIA GeForce GTX 760 TF kaart. In 1e instantie had ik wel trek in de NVIDIA GTX 750 Ti. Hoewel iets minder snel is het een zeer moderne en vooral ook goedkopere kaart. En een kaart die veel minder energie vraagt van je computersysteem. Dat komt dankzij de hierin opgenomen 1e generatie NVIDIA Maxwell architectuur.
Turbocharge your gaming experience with the GeForce GTX 750 Ti. It's powered by first-generation NVIDIA® Maxwell™ architecture, delivering twice the performance of previous generation cards at half the power consumption.
Het probleem met deze specifieke en zeer aantrekkelijke kaart is echter die nieuwe technologie. De standaard kernel van Ubuntu 14.04 zal deze kaart nog niet ondersteunen. En ook de driver die wordt uitgeleverd onder Ubuntu 14.04 kan deze kaart nog niet aansturen. Dat valt natuurlijk allemaal op te lossen, maar handig is dat niet.
Met die wetenschap heb ik gekozen voor een MSI NVIDIA GeForce GTX 760. Die kaart is niet zo zuinig maar wel een stuk sneller én duurder. Maar die kaart wordt wel ondersteund door de standaard kernel van Ubuntu 14.04 en de standaard NVIDIA driver onder Ubuntu (331.38) kan ook een GeForce GTX 760 aansturen. Kortom…dat moest hem worden.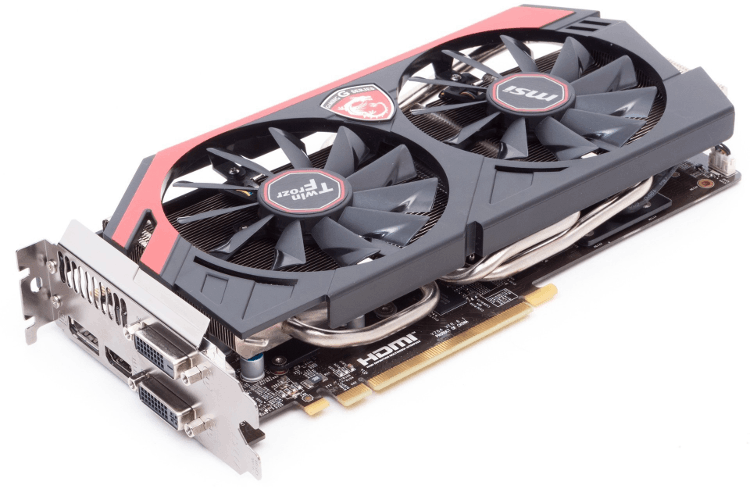 Helaas blijkt dan de praktijk een stuk weerbarstiger te zijn. De kaart wordt keurig ingebouwd, aangesloten op zowel de 8 als de 6 pins voedings aansluiting. Een voeding van overigens 750 watt dus meer dan opgewassen voor haar taak. En toch kwam de kaart niet tot leven. Er kwam wel beeld, maar het opstarten van de computer ging gepaard met een vertraging van meerdere minuten en de 2e monitor blijf angstvallig zwart. En het bios was sowieso niet meer benaderbaar.
Je begint dan te twijfelen of je kaart wel goed in het slot zit. Is de voeding wel op de juiste spanningrail aangesloten? Is het wel een PCI Express 3.0 slot? Je herkent die vragen vast wel. Maar het bleek uiteindelijk een andere oorzaak te hebben. Mijn Gigabyte GA-Z77-D3H moederbord werkte nog met een oud bios. En dat bios moest eerst worden geupdate. Dat was vroeger een heel gedoe onder Linux. Maar gelukkig heeft dit moederbord een specifieke functie om deze klus te klaren.
Om te beginnen moet je de laatste bios downloaden. Dat is dan wel een .exe bestand. Als je echter dat bestand met je rechtermuisknop aan klikt dan kan je ervoor kiezen om dat .exe bestand te openen met archiefbeheer. Je zal dan zien dat in dat .exe bestand 3 bestanden zitten verpakt. En één van die bestanden is het bios bestand wat je nodig hebt. Dat bestand (Z77D3H.F22) plaats je op een usb stick.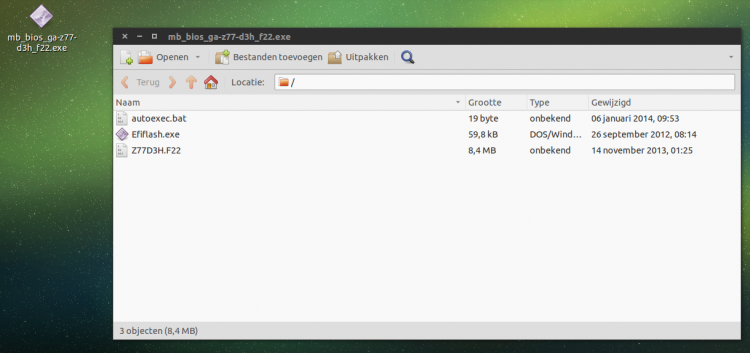 Vervolgens (even met je oude grafische kaart) je computer opnieuw opstarten en het bios openen. Daarin zit een functie (Q-Flash) die het mogelijk maakt om je bios te flashen. Die functie herkent meteen een ingestoken usb stick en als je daar naar verwijst vindt het vanzelf de daarop geplaaste image van het nieuwe bios. De rest is kinderspel.
Het kost even de nodige moeite maar dan heb je ook wat.