Klik  op introductie en deel 1 voor eerdere artikelen van deze serie.
Music Maestro!
Digiplace schrijft vooral over het gebruik van Linux op de desktop. Sinds de komst van een  Bubba|Two server wordt er ook geschreven over het gebruik van Linux op  een server. Maar in tegenstelling tot de desktop artikelen zal die server serie ook gebruikers van Windows- of  Apple systemen aan kunnen spreken.
Bubba is immers een kleine, zuinige én stille homeserver oplossing die voor iedereen valt in te zetten. Het Debian besturingssysteem hoeft niemand af te schrikken want de bediening van deze server geschiedt door middel van een keurige webinterface.
Inmiddels staat mijn Bubba|Two server  naar volle tevredenheid te draaien. Tot op dit moment heb ik Bubba alleen maar gebruikt als server voor mijn Logitech Squeezebox.  Gelukkig is de Bubba|Two server standaard voorzien van de juiste software om een Squeezebox aan te kunnen sturen.
Daarvoor wordt gebruikt gemaakt van SqueezeCenter. De update functionaliteit van een Bubba|Two server zorgt ervoor dat ook SqueezeCenter up to date wordt gehouden. Maar als je geen Squeezebox hebt staan heb je natuurlijk niets aan deze mogelijkheden. In dat geval draai je die server natuurlijk niet. Dat kan je eenvoudig vanuit het menu systeem van Bubba|Two aangeven. En dan kies je voor een andere optie. Er zijn namelijk meer mogelijkheden om te gebruiken.
Firefly is een van die mogelijkheden en die gebruikt vooral DAAP als protocol zodat die perfect kan samenwerken met iTunes of b.v. de Roku/Pinnacle Soundbridge mediaspeler. (Overigens kan Rhythmbox en vele andere Linux (en Windows) muziekspelers prima overweg met het DAAP protocol)
The purpose of this project is built the best server software to serve digital music to the Roku Soundbridge and iTunes; to be able to serve the widest variety of digital music content over the widest range of devices. Current stable releases have been reported to run on Linux, all the BSDs, Solaris, AIX, and a variety of embedded devices such as the Linksys NSLU2, the Maxtor MSS, and the Buffalo Linkstation, to name but a few.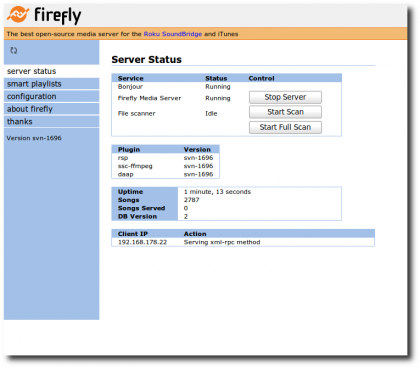 Klinkt goed nietwaar? Maar er is nog meer aan boord om je muziek behoeften te temmen.Want als je geen Squeezebox gebruikt of het DAAP protocol niet kan of wil gebruiken dan kan je vast wel overweg met het UPnP protocol. En dan komt de UPnP MediaServer van MediaTomb om de hoek kijken. En die is ook standaard met een button te activeren in je Bubba|Two server.
MediaTomb is an open source (GPL) UPnP MediaServer with a nice web user interface, it allows you to stream your digital media through your home network and listen to/watch it on a variety of UPnP compatible devices.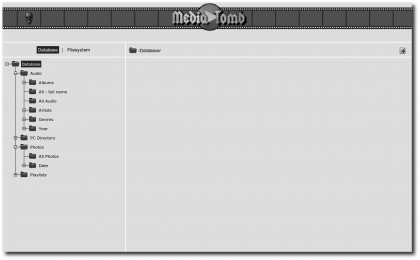 Mocht je trouwens zo'n populaire Popcorn Hour bezitten dan is het goed om te weten dat die zondermeer de bestanden kan benaderen vanaf de Bubba|Two server. Dat lijkt mij dan ook ook een perfecte combinatie.
Some media players such as Popcorn Hour are able to find the media content on Bubba|Two, without the need for a media server. Simply browse your network (from example Popcorn Hour) and connect to Bubba|Two via SMB or NFS (NFS will be available in Bubba|Two in a nearby software update).
Kortom, de mogelijkheden van deze server zijn eindeloos. En dan hebben we alleen nog maar gekeken naar de mogelijkheden om media af te spelen. De volgende keer komt de mogelijkheid aan bod hoe je op Bubba|Two een website of online fotoalbum kan presenteren.