UPDATE: Dit werkt ook onder Ubuntu 12.04. Maar lees ook het vervolg: Ubuntu 12.04: Stabiele NVidia configuratie en https://www.digiplace.nl/2013/04/05/ubuntu-12-0412-10-laatste-nvidia-driver-installeren/
Als je de kersverse Ubuntu 12.10 installeert dan wordt standaard de open source video driver van Nouveau gebruikt. In mijn geval is dat lastig want de beeldkwaliteit liet behoorlijk te wensen over. Ik gebruik twee iiyama ProLite E2473 HDS schermen en die worden aangestuurd door een MSI N450 GTS grafische kaart.
Dan is het niet zo gek om daar de (gesloten) NVIDIA driver voor te gebruiken. Dat gaf echter grote problemen. Je kan daarna nog net inloggen maar krijgt dan maar beeld op één scherm, alleen maar een wallpaper en in een verkeerde resolutie. Dat is vreemd.
Maar er is een oplossing. Er wordt bij het installeren geen Linux Source en Linux headers geïnstalleerd  Daardoor kan de driver niet goed worden gecompileerd. Heel erg slordig van Ubuntu temeer omdat dit probleem zich ook al voordeed onder Ubuntu 12.04. Alleen kreeg ik daar beter beeld met de Nouveau driver.
De volgende werkwijze brengt succes:
Installeer Ubuntu 12.10 en open een terminal. Daarin eerst een een sudo apt-get update en een sudo apt-get upgrade. Vervolgens:
sudo apt-get install linux-source
sudo apt-get install linux-headers-3.5.0-17-generic (mocht er inmiddels een nieuwe kernel zijn uitgekomen dan gebruik je natuurlijk de output van uname -a om de juiste kernel aan te passen)
Als dit is gedaan open je DASH, tikt in 'Softwarebronnen' en als die applicatie verschijnt klik je op het laatste tabblad: Extra stuurprogramma's. Kies daar je driver uit en herstart daarna je computer.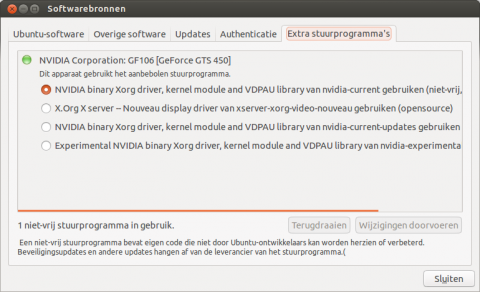 Daarna kan je verder gaan met configureren van je nieuwste Ubuntu.
Mocht je al de NVIDIA driver hebben geïnstalleerd en ziet op om Ubuntu nog een keer te installeren dan kan je met ALT F1 naar een shell springen en na het installeren van de Linux source en headers de geïnstalleerde NVIDIA driver verwijderen met het commando:
sudo apt-get remove nvidia-current of sudo apt-get remove nvidia-current-updates of sudo apt-get remove nvidia-experimental-304 (afhankelijk van welke driver je hebt geïnstalleerd) Daarna installeer je de juiste driver weer met sudo apt-get install nvidia-current of een van de andere versies.