De beslissing van Ubuntu om niet onverkort met Gnome 3 te werken heeft nogal wat los gemaakt. Iets wat natuurlijk heel eigen is in 'Linux land'. Want hoeveel distributies en desktop omgevingen ontlenen niet hun ontstaansrecht uit onvrede over het een of ander?
Tot voor kort moest je als Gnome gebruiker kiezen tussen Gnome 3 of Ubuntu's Unity. Met de aanstaande komst van Linux Mint 12 komt daar een alternatief bij. Hun zogenaamde Mint Gnome Shell Extensions (MGSE) komen bovenop een Gnome 3 Shell te liggen. Dat levert (naar keuze) een extra panel op, een menu applicatie én een vensterlijst.
Op Digiplace is al een artikel geschreven over deze oplossing en de ervaringen met deze opzet waren zeker ook positief te noemen.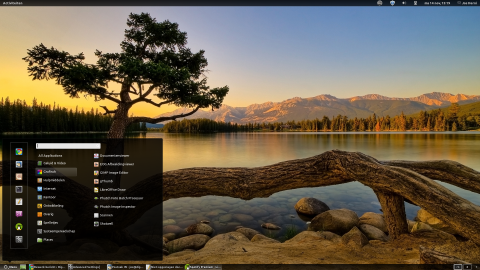 Inmiddels verschijnen er artikelen waaruit zou moeten blijken dat Ubuntu marktaandeel aan het verliezen is. Als bron van deze bewering worden de cijfers van Distrowatch erbij gehaald.
Ik vraag mij dan af in hoeverre deze cijfers een betrouwbare bewering kunnen onderbouwen. Een aantal jaren geleden was het bijvoorbeeld PCLinuxOS al eens gelukt om de 1e plaats over te nemen. Waarschijnlijk heeft toentertijd niemand gedacht dat PCLinuxOS op dat moment ook de meest gebruikte distributie was geworden.
Unity
De vraag welke omgeving de meeste gebruikers gaat krijgen blijft natuurlijk wel interessant. Dankzij dit  filmpje over multitasking onder Untiy én een uitstekend artikel over Unity op Leo Cardinaals Weblog ben ik weer terug bij Unity.
Daarbij roep ik zeker niet dat dit een keuze voor altijd gaat worden. Maar ik geloof wel dat ik mijn eigen vooroordelen over Unity even terzijde moet schuiven en het gewoon een betere kans moet geven.
Daarbij word ik geholpen doordat ik de starter heb verkleind. Daardoor kan ik veel meer applicaties kwijt dan bij de standaard instellingen. Ook ben ik blij dat ik inmiddels de mogelijkheid heb gekregen om de temperatuur van mijn CPU's in de gaten te houden.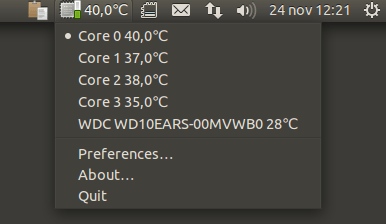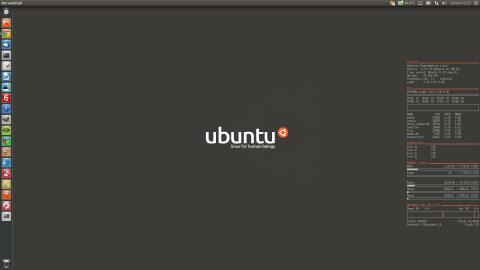 Naarmate er meer van dit soort oplossingen beschikbaar komen wordt Unity steeds handiger in gebruik. Daarom ben ik dan ook erg nieuwsgierig wat er gaat komen bij de release van Ubuntu 12.04. Want die release gaat straks maar liefst 5 jaar ondersteund worden voor op de desktop! Ik zie de toekomst van Ubuntu wel met vertrouwen tegemoet.