Het gebruik van Conky is al eens eerder aan de orde geweest op Digiplace (en wel hier). Tot zover niets nieuws onder de zon. Maar onlangs stond er een prima artikel van Koen Vervloesem in Linux Magazine (juli 2009, jaargang 10, nummer 3) over het gebruik en configureren van Conky.
Conky is a free, light-weight system monitor for X, that displays any information on your desktop. Conky is licensed under the GPL and runs on Linux and BSD.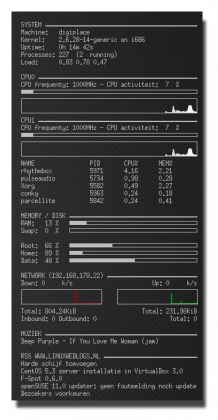 Dat heeft bij mij weer geleid tot een aanpassing van een bestaand (maar eigenlijk niet meer gebruikt script). De kleuren zijn nu aangepast aan mijn huidige bureaublad en het laat zowel mijn muziek zien (Rhythmbox) als de laatste 5 artikelen van Linuxweblogs.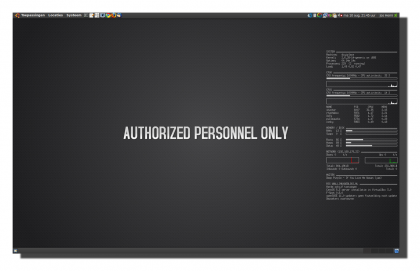 Mocht je interesse hebben in opbouw dan is hier het conkyrc script. Voor de werkwijze verwijs ik naar het tijdschrift of het artikel "Conky".